Corporate Vision

To respond to various customer needs, NC Industry not only solves challenges through high-precision product processing; the company has a philosophy of analyzing challenges from a comprehensive point of view through hole processing, and providing services that exceed customers' expectations by means of front-line vision and technical expertise, by presenting proposals and designs created according to individual situations.

NC Industry is shifting its role from that of a producer of physical products to a producer of concepts that create and deliver values and services.
As the "check station" of hole processing, we aim to become the world's best platform developer/proposer.
Business Details
Our hole processing technology is not only to supply products, or physical objects. We pursue and create the functions that exist on top of them, thus providing completely new values that will be greater than customers' expectations. We are committed to creations that will continually impress and move customers.
Creation of innovative values
We believe that our success in satisfying higher-level needs in the future will remain a vital factor, including growing needs for more advanced performance associated with the Internet of Things (IoT). In this context, we make efforts to further sophisticate the technologies we have developed, while introducing new, external technologies through proactive cross-field collaboration, including cooperation with academics. We provide new cross-disciplinary values and are entering new fields beyond the boundaries as a manufacturer. Please do not hesitate to contact us if you are considering unprecedented applications or have new ideas for practical uses.
Creating values from the customer-first viewpoint
We plan applications from the standpoint of customers. Considering quality, cost, lead time, technology, and services, we attempt to further improve customer satisfaction and deliver unparalleled additional values and comprehensive services. Our mission is to create new values and realize the limitless ideals of the day and people living today, understanding people's minds and the vital aspects incorporated in physical objects.
Unlimited creation
Consistent commitment to creating new values
Thinking and acting quickly from the standpoint of customers
ISO 9001 YKA4005045

ISO 14001 YKA4003974
Quality assurance policy
We are certified by the ISO 9001 international quality control standard.
We assume responsibilities for quality assurance and perform relevant actions, upholding the "quality first" policy.
We make efforts to live up to customers' expectations and satisfy them, fully understanding their viewpoints.
We retain our basic values and take on challenges for changes.
Environmental conservation policy
We are certified by the ISO 14001 environmental management system standard.
We aim at the continual improvement of environmental conservation activities, and attempt to create new values consistently.
We build an environmental management system and promote businesses in consideration of environmental conservation.
We continually improve environmental conservation activities and prevent any contamination.
Critical policies for environmental hostility reduction


We reduce the production of failing products and promote the elimination of wastage of resources.
We promote resource-saving activities by taking improvement measures in each operational group.
We promote operational streamlining by improving the efficiency of each production process.

We promote the reduction and proper control of chemical use to prevent environment contamination.
We satisfy the requirements of environment-related legislative regulations, regional regulations, and in-house regulations.
We establish environmental objectives and aims that reflect environmental assessment results, and regularly review them.
We document conservation policies and educate all employees through training and enlightening activities to make the policies fully known amongst them.
We disclose our environment policies to the public.
Production in pursuit of precision
Special processing
Film, carbon plastic, touch panels, aluminum, various enclosures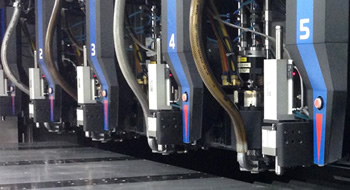 Drilling
We are able to drill holes from 0.1 mm to 6.2 mm in diameter at low cost. Processing of unpenetrated holes is also available.
The processing precision can be in a range of ±30 μm to ±50 μm for both hole positions and outline dimensions.
For more information, click: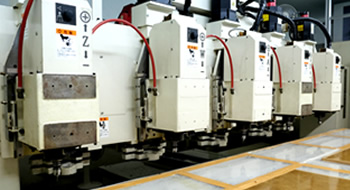 Outline machining
Using the best machine for each material, we process resinous, metallic, carbonic, and other various materials two- and three-dimensionally.
We are also able to perform special processing at high precision, such as mirror machining and counterboring.
For more information, click:
Machining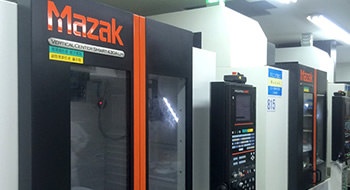 We machine all kinds of resins, stainless steel, aluminum, and glass epoxy sheets.
Owning three-dimensional CAD and CAM turntables and necessary equipment, we handle the complete flow of production, from complicated three-dimensional processing to surface treatment.
For more information, click:
Inspection jigs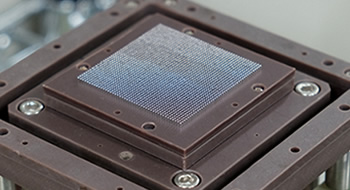 Designed and produced to the functions of the inspection systems used by individual manufacturers and assembly companies.
For more information, click:
Image inspectors
We design and produce appearance image inspectors.
They can be custom-produced according to where the customer wants to check and recognize.
For more information, click:
Product sales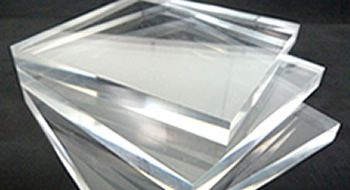 We sell products including various materials, cleaning items and punched sheets.
For more information, click:
Creating globally recognized values
◎Supply of world-class high-quality, low-cost products

We procure materials internationally for manufacturing operations and trade products for sales, beyond the boundaries of Japan. We supply and merchandise products based consistently on a global point of view, and deliver high-quality, highly cost-effective products from different countries, using our expanded overseas business network.

◎Speedy business response making good use of international affiliates

We have an internationally expanding business network, enabling ourselves to provide prompt business responses in production, sales of disposables and equipment, and maintenance.

◎Best services

Thanks to the synergy effects between us and our affiliates, we provide the best services to our customers.