JIGS
Product inspection jigs
High-precision hole positioning and high-quality internal walls enable the precise determination of inspection points.
Various jigs can be designed and produced, including alignment adjustment jigs and jigs for chip scale packages (CSP), ball grid arrays (BGA), integrated circuits (IC), in-circuit testers (ICT), and function testers (FCT).
Special precision jigs
Low-cost production thanks to collaboration with our overseas affiliate in China.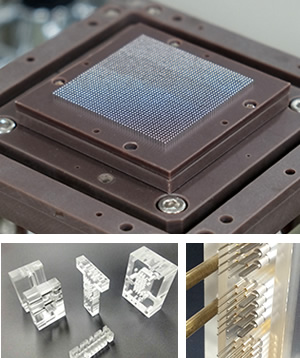 GAZOU
Image inspectors

Design and production of appearance image inspectors
Very highly evaluated for contribution to labor efficiency in microscopy inspection
Automatic inspection function using image-processing technology
An achievement of efforts for cutting inspection cost
For flexible boards, flexible mounting boards, medical systems, etc.