Product Sales
On this page, we offer products including various materials, cleaning items and punched sheets.
Please check the products and contact us if any of them interests you.
NC acrylic boards
NC Acrylic
Applications
Inspection jigs, displays, aquariums, showcases, taxi protection boards, and various other applications
Strengths
Produced by the casting method, our acrylic boards are specially heat-treated and superior in quality, as well as economical, because they are produced in countries where costs are low. Their lead time is short because stable supply is one of our essential business policies.
These boards can be processed very flexibly. They can be cut to required dimensions, and processed as specified (mirror finishing, chamfering). Thickness: 2, 3, 4, 5, 6, 8, 10, 13, 15, 20 (mm)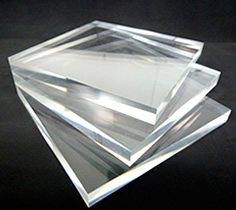 Illustrations of edge processing
* Please contact us for details.
Hand rollers
Hand Roller
Applications
Ultimate polymer rollers that remove all kinds of dust
Strengths
Complete removal of dust particles of 1 μm or greater

Can be used for a variety of cleaning purposes, by selecting adhesiveness according to the material, such as glass, acryl, and film.
A wide variety of products


Roller width:

6 inches (152 mm) to 12 inches (305 mm)

Adhesiveness:

L = Weak (black) M = Medium (red)
H = Strong (blue) Y = Silicon-free (yellow)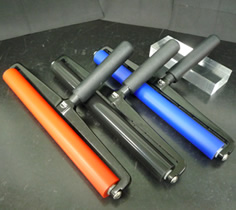 Punched sheets
Punched Sheet
| | |
| --- | --- |
| Applications | Meshes for loudspeakers, filters, aesthetically perforated materials, and barrel boards |
| Strengths | Punched sheets and processed resin sheets are available in all kinds of materials, without initial cost including mold cost. Drilling, punching, etching, and laser cutting are available as processing methods. |